GET HEALTH AND WELLNESS COVERAGE FOR YOUR WORKPLACE
Customized Health and Wellness Spending Accounts to Best Suit Your Employee's Needs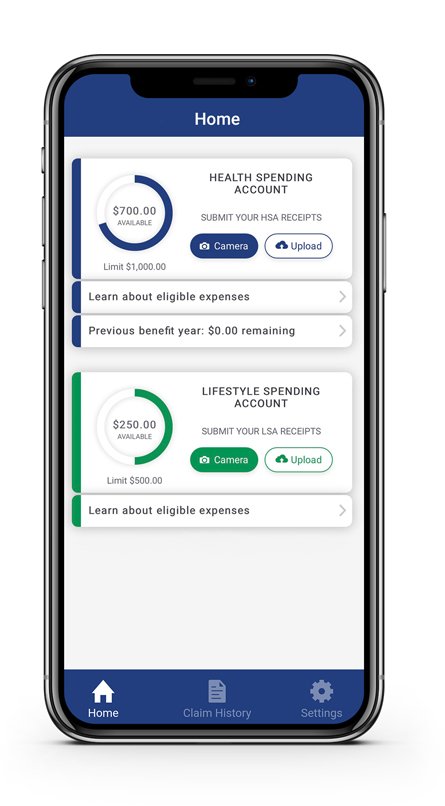 New Digital Technology.
We provide advisors with powerful solutions for their clients.
Learn how National HealthClaim will manage onboarding, process all claims in-house and provide a team of customer support agents to answer any questions.
New mobile technology that lets you make claims with the click of a photo.
No more forms or mailed receipts. Keep it simple. Send us a picture.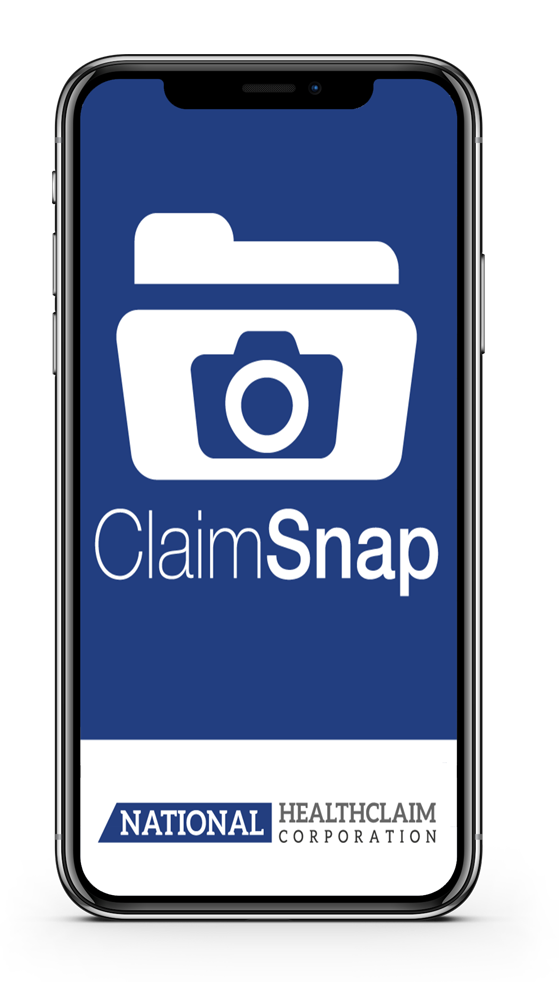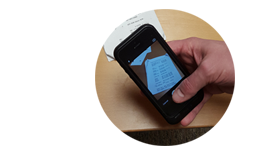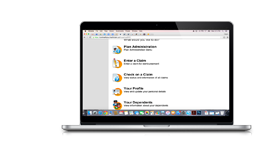 2. Take a picture of your receipts
No need to fill out any forms or mail us anything! One click of a button sends us your receipts.
3. Login to your account
Just three business days to see your new claim created. Review our notes to see if you need to send anything else. If so — just snap another picture!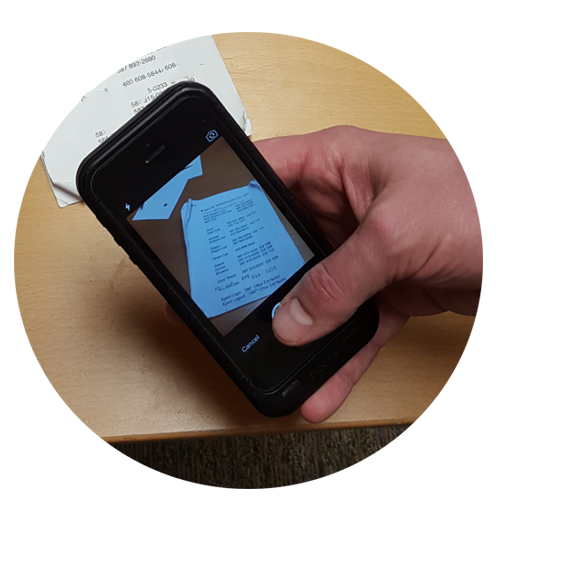 2. Take a picture of your receipts
No need to fill out any forms or mail us anything! One click of a button sends us your receipts.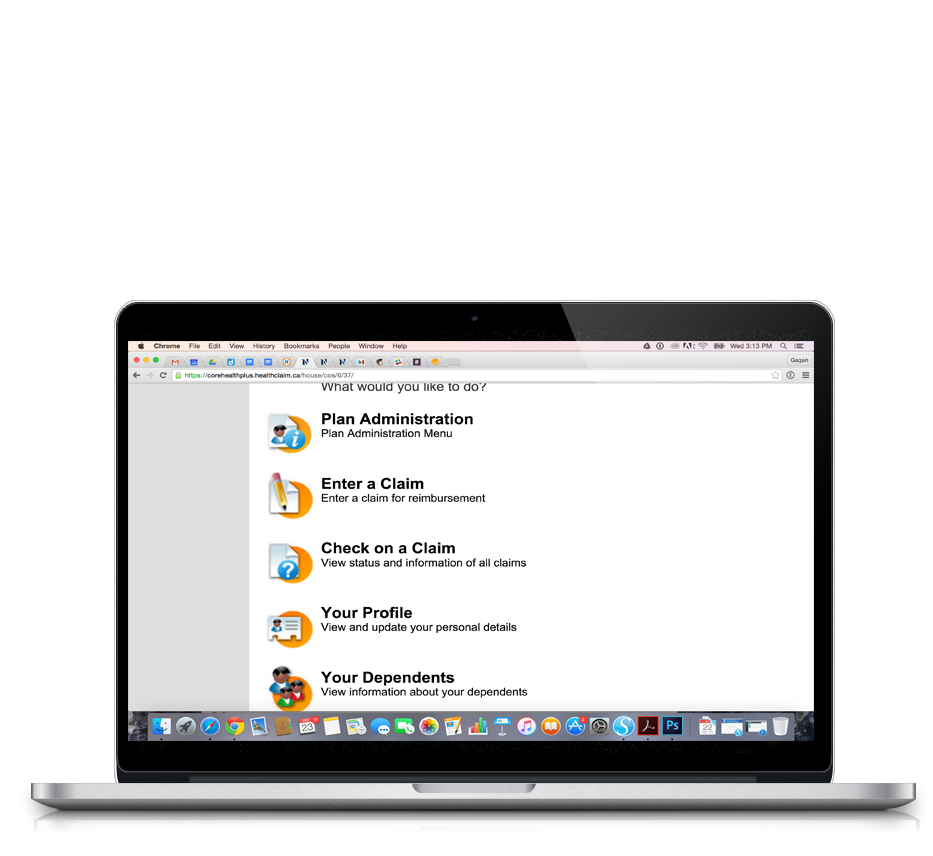 3. Login to your account
Just three business days to see your new claim created. Review our notes to see if you need to send us anything else. If so — just snap another picture!
Secure, transparent administration at your fingertips
Control every aspect of the plan, so you can make changes at the click of a button. Our system allows you to administer benefits, add or modify users, and download usage reports. You have access to everything.

One team for everything.
You no longer have to burden your HR with managing employee claims. We provide you with an in-house adjudication team, specially trained in following Canada Revenue Agency guidelines to make sure all the receipts are properly processed. Our team works with your employees to give them an understanding of how to use their benefits and follows up each claim with detailed notes on their account portal.
Have your benefits change as your business does.
Customize your benefit strategy to scale as you grow. Your needs change all the time, which is why our benefits are not full of limitations. You have adjustable benefit categories, full control over benefit limits, features like credit carry forward and the ability to turn on new hire restrictions as needed.
Advanced security at your fingertips.
Built on a protected system that gives all employees unique, password protected login access to their own account portals. Administrators have a separate login to view private company plan details, funding history, usage reports and master employee lists. Our system is built to protect your benefits, so employees can claim sensitive expenses without worry.
Affordability is key.
Our solution strengthens your benefits program since it is not tied to an insurance provider. A third-party solution not only helps your employees understand and experience their benefit dollars, but it also provides a clear opportunity for your employees to use other insurance coverage before making a claim on your company plan – this reduces your benefit plan costs. A spending account is funded on a per claim basis, with no monthly premium charges. With a small administration fee you can control your benefits costs while still providing your employees great, flexible coverage.
Revolutionary mobile claiming.
With our mobile app, ClaimSnap, submitting receipts is as easy as taking a picture. We build the claim and enter all the info for you! Claims can be made on-the-go without taking time out of your busy schedule. Our mobile app can be downloaded on as many devices as needed, so spouses or dependents can send in their own receipts. Everyone can enjoy one of the simplest mobile apps in the industry.
We are here to help.
With our trained support agents dedicated to helping you, there is never a time where you have to be in the dark about your benefits. Call our support line, or email us today to get all your questions answered and have one of our knowledgeable staff members walk you through your account.
See what our users are saying
Karen Hammersley
2022-05-12
National HealthClaim helped me overcome a claim matter where part of my former corporation's benefits had been moved to them from another insurance company. The service was excellent and most importantly the communication was seamless. Special mention to Bea who took charge of the matter and resolved all issues. I would not hesitate to recommend National HealthClaim to anyone person or corporation looking for a benefits provider that cares for their clients
Working with National HealthClaim Corporation is like a breath of fresh air. They are easy to work with and make administration a breeze. The HSA app is very user friendly for clients as well. You won't be disappointed.
Mark Neustaedter
2022-05-02
Prior to joining National Health Claim, I was paying for benefits monthly. The first year of our program, the costs were high but reasonable. However they increased the fees by around 40% for the second year (apparently very typical). I was looking for ways to save money and NHC was the answer! The claim process using Claim Snap is a SNAP! Super easy to load and manage. Plus, I get to write the claims off as business expenses (double bonus!) I can't recommend them enough!!
I'm the payroll and Benefits Analyst for an Oil and Gas company, we use NHC for our HSA and LSA accounts. I have to say that team at NHC is absolutely amazing. They consistently go above and beyond to make sure that problems get solved efficiently and effectively. Response times are super quick. Thank you, for all the great work you do NHC!!
Very easy app to use. My claim was handled very quickly.
I work with a broker firm and we frequently suggest clients go with National Health Claim when they want to open an HCSA, a Lifestyle account, or both. On top of extremely competitive pricing, the service team is absolutely incredible. They consistently go above and beyond to make sure that problems get solved effectively and efficiently. Response times are quick, and they know how to answer the question you didn't even know you had. Keep up the good work, NHC team!!
In a world where you noW can expect to be on hold and transferred numerous times when you phone for support it was sure a wonderful experience to have my questions answered completely in under 10 minutes. Plus the lady I spoke with was very knowledgeable and friendly. Thank you soooo much. DAN.
Bea helped process my claim and went above and beyond to help me. I was very impressed with her sense of urgency in getting a hold of me and updating me as my claim had extra information to clarify. Bea was professional, courteous and helpful. I will definitely let people know of my positive experience. Thank You Bea and National Health Claim.
Excellent service!! Very helpful at helping me process my claim quickly even though it was not straight forward (due to matters at my end). Bea was a pleasure to work with!! I would highly recommend this to any individual or company!
About Our Company
Seeing the need for a fresh approach to providing group benefits for businesses, National HealthClaim has been developing and leading the industry with its technology in Health & Wellness Spending Account solutions. Reliable and secure online systems are at the core of our operations and our commitment to customer service, technical excellence, and new products is unshakable.
Who We Work With
National HealthClaim recognizes the importance of the advisor-client relationship and we prefer this relationship for growing and distributing our products across Canada. Building relationships with advisors has proven to be an excellent model for us and we will continue to grow our business through these relationships. Our goal is to continue to support our advisors as well as provide them with new leading edge technologies and solutions to share with their clients.
If you are an advisor looking to partner with a company who values your expertise and respects your relationship with your clients, call or email us today to speak with one of our advisor support representatives!