Combine Group Insurance for Unplanned Expenses with a Health Spending Account for Routine Expenses. 
As a business owner, providing a traditional group plan for your employees is either not available or very expensive. The CoreHealth+ Plan is tailored for small businesses to get the coverage they need at an affordable price. Low monthly premiums, no medical underwriting, and available to companies with one or more employees.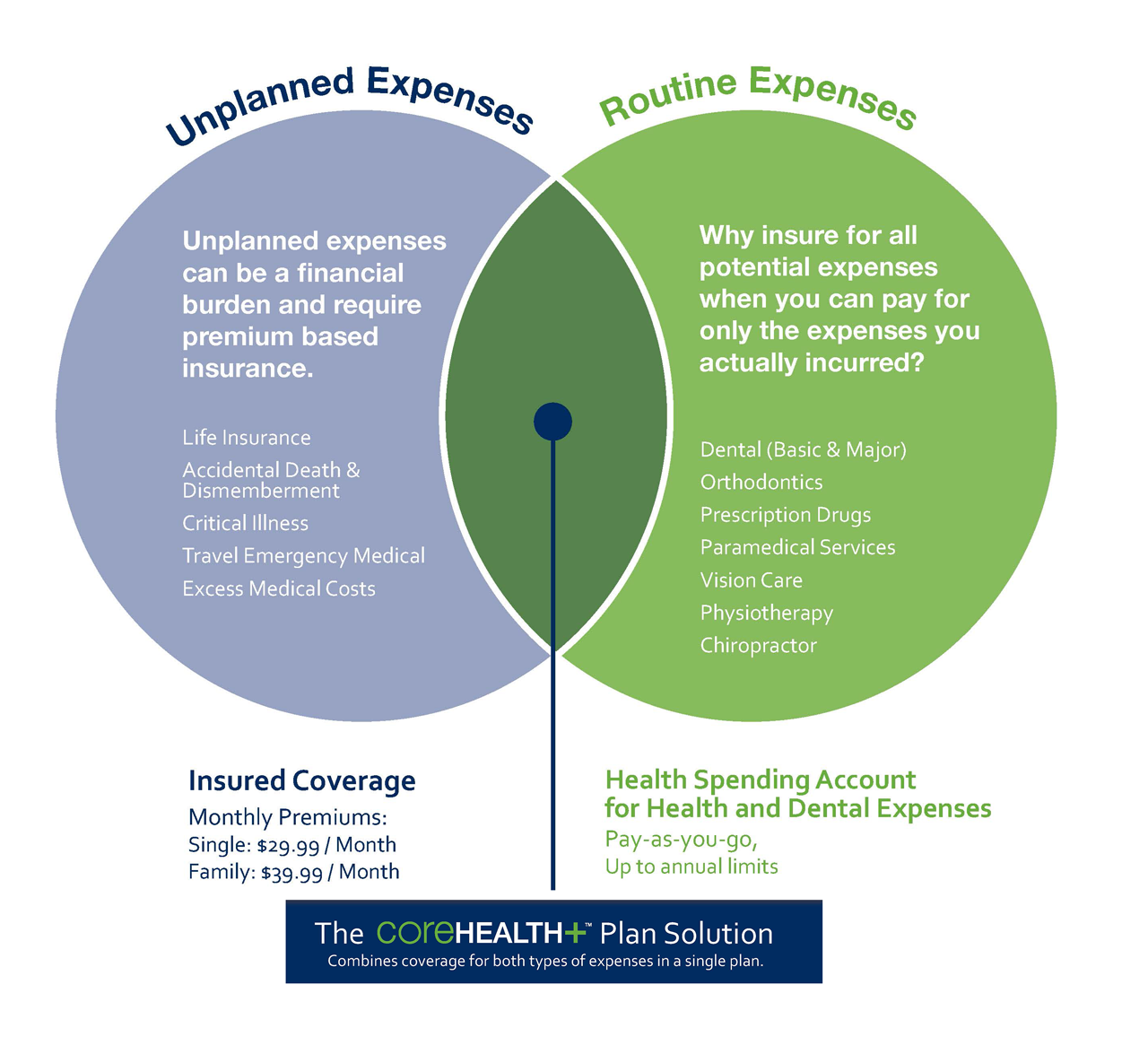 Employee: $15,000
Spousal: $10,000
Dependent Child (per): $5,000
Benefits for certain injuries and/or death due to an accident.
Benefit amount: Up to $60,000
 Employee Critical Illness
Financial assistance and support to employees diagnosed with a critical illness.
Benefit amount: $10,000
Emergency Travel Medical Insurance
Protects you from unexpected costs due to medical and other emergencies while traveling outside your province of residence.
$2,000,000 lifetime maximum
60 day per trip coverage
Travel Assistance service included
Excess Medical Costs Over $2,500 (Stop Loss Coverage)
$25,000 yearly maximum (for each expense category) per injury or sickness
$50,000 lifetime maximum (for each expense category) per injury or sickness
Prescribed medications and drugs, vaccines and injections (like insulin treatments).
Glasses or contact lenses purchased in-store or online. Services like eye exams, laser eye surgery and vision therapy.
Dental services including x-rays, cleaning, restorative procedures and more. 
Orthodontic (braces/Invisalign) services performed by a licensed medical practitioner.
Services done by registered medical practitioners. Common examples of practitioners include chiropractor, massage therapist, physiotherapist, naturopath, dietitian, orthopedist (foot orthotics) and many more.
Your CoreHealth+ Also Includes

World-renowned specialists are here to help when you have doubts or questions about a diagnosis, treatment plan, or need for surgery. 
Get help if you are unsure about a diagnosis or need help deciding on a treatment option.
Ask medical questions or concerns to our leading experts.
Find a local specialist or one outside of Canada who meets your specific criteria.
Get help navigating the healthcare system with useful resources
$29.99/month + HSA usage for single coverage.
$39.99/month + HSA usage for family coverage. 
When we sat down to build a flexible small business health care benefit program, we wanted it be approximately the price of cable TV per month.
Even though cable TV prices have gone up since CoreHealth+ was launched, we have kept the pricing the same.
Health Spending Account
Whether it's complete coverage you need (health, dental, vision, prescription) or whether you want to take out some costly coverages from a traditional plan and put them in an HSA – we have you covered. 
Lifestyle Spending Accounts
Engage employees and offer coverages like: gym memberships, daycare, continuing education costs, family leisure time etc.
Or, tell us what you want to do. It's that simple.
If you want to extend both an HSA and LifeStyle account to your employees, National HealthClaim has technology that allows each person to personally allocate where they want their benefit dollars for the year. 
Providing 'choice' is a powerful way to bring flexibility to your benefit plan.
Is CoreHealth+ Right for Your Business? 
Do you have a small businesses with 1 – 4 employees? Are you looking for an affordable solution as you grow? 
You have a lot on your plate and value your small group of staff working to make the company successful.
Get a plan with no medical underwriting and simple enrollment so everything is up and running quickly.
Pick the HSA coverage at a level the company can afford. As the company grows, you can increase the HSA limit. Part time staff are also eligible for coverage as long as they work at least 15 hours per week. 
The insurance coverage will give you and your employees peace of mind for unplanned events.
Do you have a medium sized businesses with 6 – 40 (or more)? Are you frustrated with the cost and level of coverage on a

 traditional group benefits plan?
It has been interesting to work with this group of companies as we didn't predict that there were so many groups wanting something different than their traditional group plan. When we talk to these companies, they are frustrated with the cost of traditional group insurance and they see the premiums go up each year.
CoreHealth+ provides a modest level of insurance for unplanned or catastrophic events at an affordable price. Each year the company can decide to adjust the HSA limits so the cost control stays in their hands.
You are among the hardest working people on the planet and have healthcare expenses just like the rest of us.
The HSA limits are more tightly controlled by the CRA ($1500 per adult and $750 per child, combined per family) but is still the best way to pay for healthcare expenses with pre-tax dollars. It is the combination of an HSA with the insurance that makes this plan available for Sole Proprietors (CRA requirement).